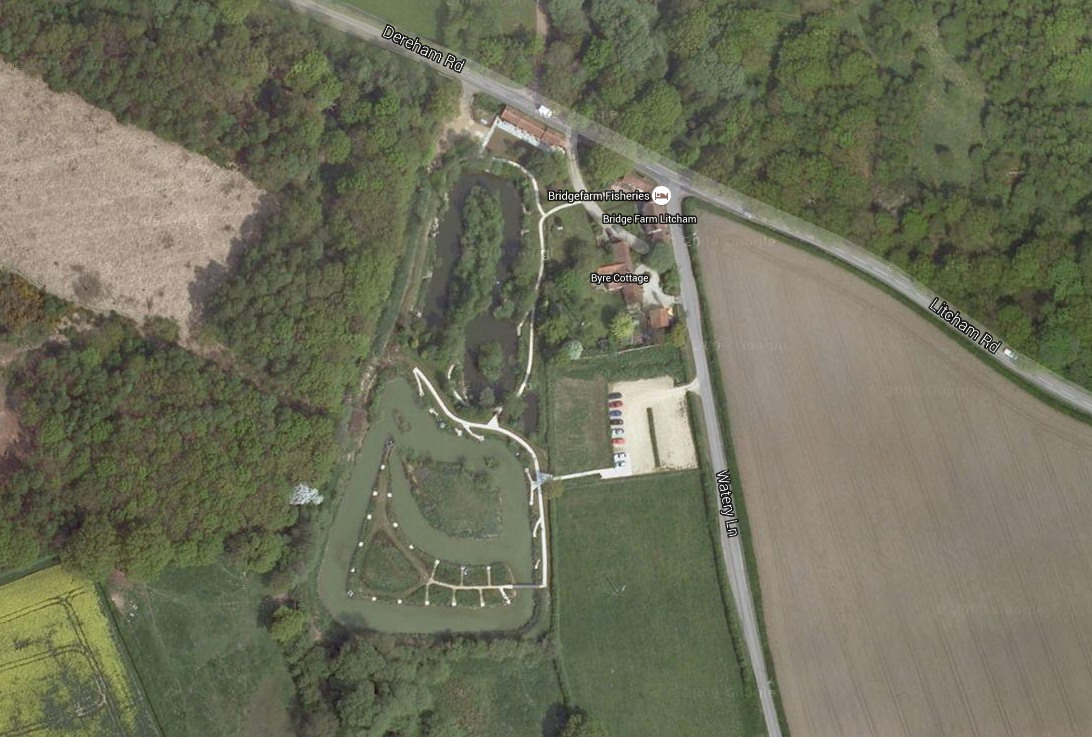 Fishery Name: Bridgefarm Fisheries Ltd
Address: Watery Lane, Kings Lynn, Norfolk, PE32 2YQ


Grid Reference: Entrance Grid Ref: TF 89205 17120

Actual Grid Ref: TF 89150 17085
Sat Nav: PE32 2YQ
Phone Numbers: 01328 701699
Email Address: [email protected]
Description:

Bridge Farm Fisheries is a family run business set in the heart of Norfolk. Based around two very heavily stocked coarse lakes with over 40 hard standing pegs. The Lakes are named "The Match Lake" and the other is called "The Crabtree" which has 14 pegs.

Bridge Farm Fisheries offer Bed and Breakfast accomodation, in a beautifully natural environment in excess of five acres. The fishery offers exceptional fishing to experienced and new anglers alike, and we pride ourselves on our disabled facilities.
Fish Species:

Bream
Common

Bream
Silver

Bullhead

Carp
Common

Carp
Crucian

Carp
F1 Carp

Carp
Ghost

Carp
Grass

Carp
Leather

Carp
Koi

Carp
Mirror

Catfish
Wels

Eel

Goldfish

Goldfish
Brown

Orfe/Ide
Blue

Orfe/Ide
Golden

Orfe/Ide
Silver

Ruffe

Schelly

Stickle
back

Stone
Loach

Sturgeon

Tench

Tench
Golden

Walleye

Zander
Rules: Rules of the Fishery

Only fish if you are happy to comply with our rules.

1. All children under 16 must be accompanied by an adult.

2. Landing nets and Day tickets from the house. Landing nets supplied by us, but not handles (every person fishing must have a net. The only exception is if a peg is shared).

3. Your own landing and keep nets must not be bought onto the fishery.

4. All fish over 8 oz must be netted and returned to the water with the net. Never remove the fish from the net and return to the water with your hands.

5. Only one rod (maximum test curve 2lb through action preferred float only).

6. Barb-less hooks (maximum size 8).

7. Mainline: maximum 10lb, a hook length of at least 1lb less than your mainline MUST be used.

8. Please do not bring your unhooking mats or weigh slings onto our fishery due to diseases. Unhook only on the grass not on the concrete.

9. No litter to be left. Leave only footprints, take only memories, kill only time. Please put rubbish in the bin by the gate.

10. All fish over 8oz must be netted and returned to the water in the net.

11. No dogs, radios, fires or BBQ's.

12. You must only fish from the fishing platforms provided, not from the banks.

13. No surface fishing allowed.

14. No floating baits i.e. Bread.

Bait Bans

All ground baits, boilies, trout pellets and all artificial baits. Maximum two cans of pet food.
Facilities: We are Disabled Friendly, with direct access from our car park to the peg hardstanding.

We also offer:

Disabled toilets

Snacks and drinks

Bait

Tackle