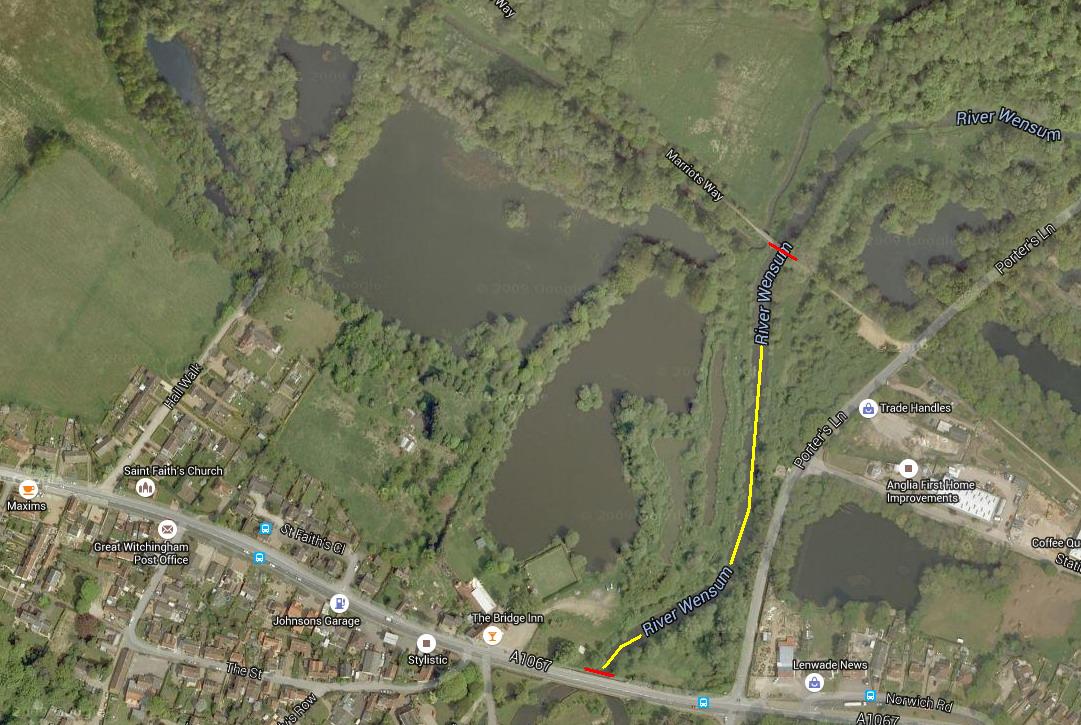 Fishery Name: Bridge Inn Fishery - The River Wensum
Address: 2, Fakenham Road, Norwich, Norfolk, NR9 5SE


Grid Reference: Entrance Grid Ref: TG 10160 18275

Actual Grid Ref: TG 10230 18320
Sat Nav: NR9 5SE
Phone Numbers: 01603 872248
Email Address: ?
Description:

The River Wensum.

Our exclusive stretch of the legendary river Wensum nestles between two private beats and reaches over 300 yds from the road bridge to the Iron bridge at Marriott's Way. Which is Marked on the Map by "Red Lines". It can only be fished from the Bridge Inn Fishery side of the river. Heavily weeded during the summer months; fish can be caught from the gravel glides or the 2 deeper holes by the bend or the Iron bridge.

The best fishing is to be had in the winter, especially when fining down from flood or snow water.

Tips : Two schools of thought really...Tip it, or Trott it, both have their days. The Barbel are usually found under the trees on the far bank ½ way down the stretch. They soon wise up being caught from the deeper holes. A large Halibut pellet over a bed of hemp and pellet has been the norm for the last few seasons, but don't be afraid to experiment, because they love spicy and garlicky meat, big old lobworms and even the odd boilie.

Dusk is definitely a better period to fish for them than early morning sessions. Chub will pick up any bait, bread and cheese pastes are the regular's favourites. The Roach tend to favour the 2 deep holes, try strett-pegging a stick float or avon at 1 ½ times the depth, feed caster and hemp with red maggot, hemp or tares as hook bait.

Top Tip : Them big Roach always hang back... As dusk approaches; change to a large piece of bread flake, shallow up and run it through your swim.

(NIGHT FISHING PERMITTED FOR SEASON TICKETS AND GUESTS ONLY) NO BIVVIES ALLOWED ON THE RIVER.
Fish Species:

Bream
Common

Bream
Silver

Bullhead

Carp
Common

Carp
Crucian

Carp
F1 Carp

Carp
Ghost

Carp
Grass

Carp
Leather

Carp
Koi

Carp
Mirror

Catfish
Wels

Eel

Goldfish

Goldfish
Brown

Orfe/Ide
Blue

Orfe/Ide
Golden

Orfe/Ide
Silver

Ruffe

Schelly

Stickle
back

Stone
Loach

Sturgeon

Tench

Tench
Golden

Walleye

Zander
Rules:



The Bridge Inn Fishery



Any person found breaking these rules will be Banned, and no refund will be returned on their Day/Season ticket.



Rules Of The Fishery:



1. The Lakes, Ponds and River at The Bridge Inn and Hall Walks are Private Property.

2. All anglers must hold a current and valid Environment Agency Fishing Licence.

3. Day ticket holders are allowed to fish the Pub main lake, 2 match ponds and the River only. Definitely NO FISHING on any of the lakes at Hall Walks.

4. Night Fishing is restricted to Season Ticket Holders ONLY. . . and is allowed on the 2 main lakes and the River. (There is NO night fishing on the 2 smaller lakes at Hall Walks or the match ponds.)

5. Day Ticket Holders ~ Fishing is from Dawn to Dusk only. (2 rod maximum,)

6. The maximum stay permitted in any one swim on the lakes is 72 hours (3 days.) The maximum stay permitted on the River is 12 hours and definitely NO bivvies.

7. A maximum of 3 rods to be used on the 2 main lakes, 2 rod maximum on the 2 smaller lakes and 1 rod only for the match ponds. (Never leave unattended.)

8. NO LITTER. . . Please take all your litter home, and ensure your swim is litter free.

9. No Bait Boats! No Wading! No Fires! No Dogs! No Nuts! No fixed leads!

10. No tree/swim cutting to take place or any damage to marginal plants or shrubs.

11. Definitely no livebaits to be transported to the Fishery. No Pike Gags or Gaffs.

12. Under no circumstances are any fish to be removed/killed, transferred from one lake to another or introduced to the Fishery.

13. Please respect our fish No Carp, Tench, Bream or Pike to be retained in nets. Carp may be sacked overnight or for the minimum possible time for photographic purposes only and not for multiple capture photo's. (Please ensure that your sacked fish is in a good depth of shaded water.) Use only safe rigs. The use of suitable unhooking mats is compulsory.

14. Report all fish deaths or any sign of pollution to the Pub immediately. All fish, (even when dead), remain the property of the owners.

15. Strictly no publicity of any kind without the owner's permission. (This rule applies to any slanderous or libellous actions on fishing forums, talk forums or any other websites.)

16. Please respect the neighbourhood and refrain from using the access to the Fishery along Hall Walk between the hours of 10:00pm 7:00am.



And finally



All we ask is that you are sensible and respect our fish and other anglers.

A reasonable standard of decorum is expected at all times. Drugs, Drunkenness, Abusive and anti social behaviour will not be tolerated !

Tight Lines.

Darren and Mo.

Disclaimer.

Members fishing at The Bridge Fishery do so at their own risk. . .

Anglers are advised to make sure they have adequate insurance.

The owners accept no responsibility and are not liable for any injury, death, loss,damage or theft that may occur to member's property.
Facilities: ?