This webpage works in both Mobile Phone Modes.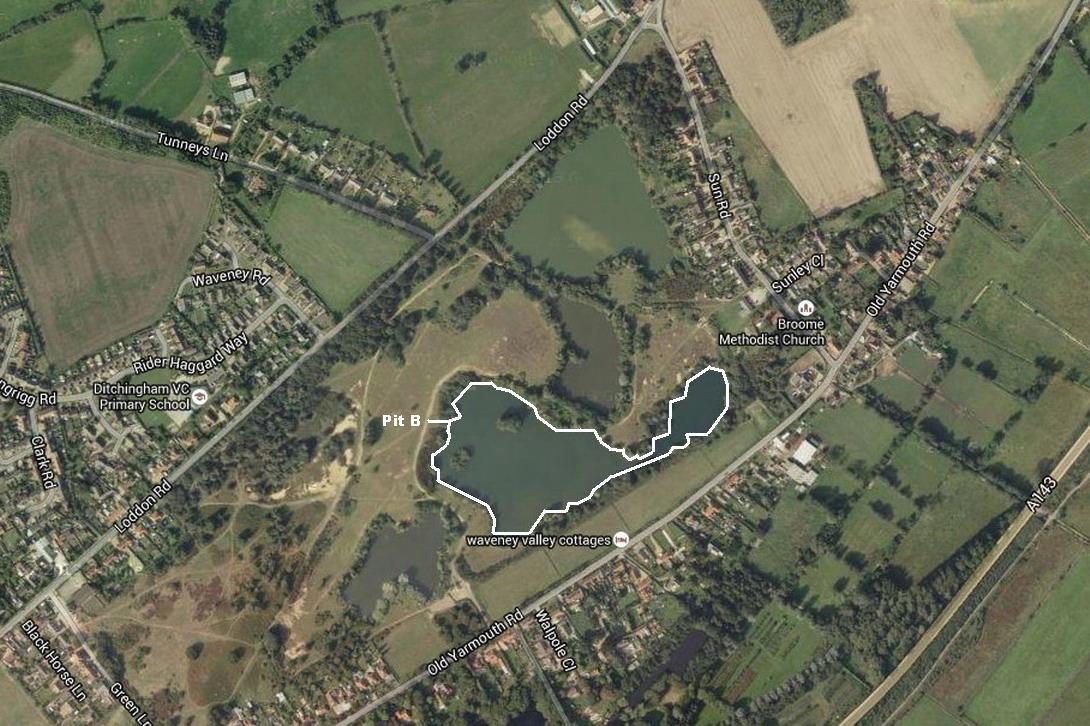 Fishery Name: Broome Pits - B Pit
Address: Old Yarmouth Road, Broome, Bungay, Norfolk, NR35 2PE


Grid Reference: Entrance Grid Ref: TM 34710 91185

Actual Grid Ref: TM 34660 91220
Sat Nav: NR35 2PE
Phone Numbers: 07976 165325
Email Address: ?
Description:

B - Pit

13 Acres, 3 x islands, Up to 14 foot deep, 25 pegs
Fish Species:

Bream
Common

Bream
Silver

Bullhead

Carp
Common

Carp
Crucian

Carp
Ghost

Carp
Grass

Carp
Leather

Carp
Koi

Carp
Mirror

Catfish
Wels

Chub

Goldfish

Goldfish
Brown

Gudgeon

Ruffe

Schelly

Stickle
back

Stone
Loach

Sturgeon

Tench
| | | |
| --- | --- | --- |
| Golden Tench | Walleye | Zander |
Rules:



Broome Pits Rules



PLEASE NOT THESE RULES MUST BE OBEYED AT ALL TIMES FOR YOUR OWN SAFETY AND THE SAFETY OF OTHERS

1. Day ticket entitles the holder to fish daylight hours only

2. 24hr ticket entitles the holder to fish 24 agreed consecutive hours

3. Maximum two rods per Angler

4. Fishing from pegs only

5. No alcohol allowed at the fishery

6. No Fires, Stormlights or Transistor Radios

7. No Carp over 5lbs to be kept in nets

8. No Carp sacks

9. Barbless hooks only

10. Persons under the age of 14 must be accompanied by an adult

11. No live bait

12. Only 1 angler per swim *except under 14's being accompanied by an adult

13. Anglers must not leave rods unattended

14. Please remove all of your litter upon departure

15. No wading

16. Bait boats are banned on A, B and C Pit (on D Pit they are permitted)

AT BROOME PITS WE ACCEPT NO RESPONSIBILITY FOR DAMAGE, INJURY OR LOSS
Facilities: ?