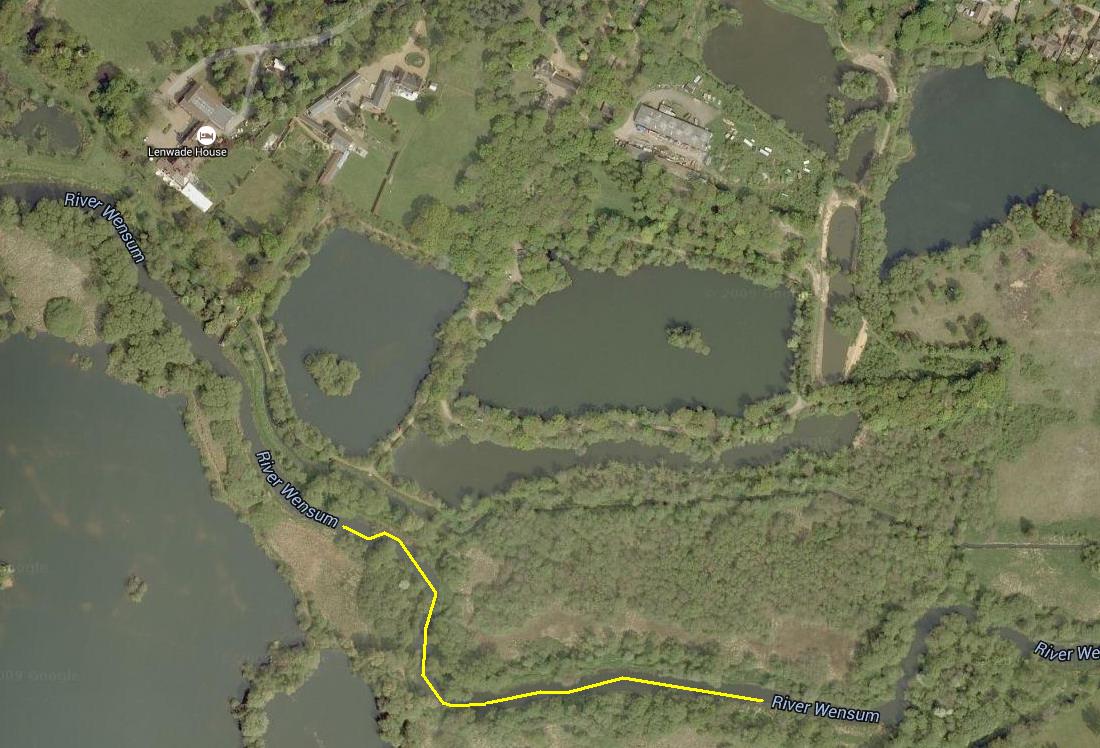 Fishery Name: Charity Lakes - River Wensum
Address: Common Lane, Great Witchingham, Norwich, Norfolk, NR9 5QP


Grid Reference: Entrance Grid Ref: TG 09680 18400

Car Park Grid Ref: TG 09508 18000
Sat Nav: NR9 5QP
Phone Numbers: ?
Email Address: General fishery information please contact us

[email protected]

Membership information please contact us

[email protected]
Description:

The River Wensum in this area is relatively unfished and has an unknown quantity however this 0.5 mile of slow moving river is sure to hold a surprise for any angler.

New for the 2012 season onwards we have introduced a river permit see our membership page for further details to allow greater access to this area of the river Wensum, and we intend to work in conjunction with the Environment Agency to improve the habitat in the area over the coming years. The river is currently undergoing a process of silt removal by the agency downstream in the area of Lenwade Mill and up through the fishery this will greatly improve the flow and will improve habitat in general

The river has plenty of bank side vegetation and over hanging trees ideal habitat for the large wary chub that inhabit the Wensum and with the stocking of barbel in the river over many years in the Lyng area and downstream at the mill there will always be the possibility of finding barbel on the stretch. Several long glides ideal for trotting the river give many anglers the chance to dust down the centre pin for a traditional mornings fishing. The Wensum is still known to hold pockets of the large roach that the river is famous for, try quiver tip bread flake at dusk what are the chances you may just find them here !


Fish Species:

Bream
Common

Bream
Silver

Bullhead

Carp
Common

Carp
Crucian

Carp
F1 Carp

Carp
Ghost

Carp
Grass

Carp
Leather

Carp
Koi

Carp
Mirror

Catfish
Wels

Eel

Goldfish

Goldfish
Brown

Orfe/Ide
Blue

Orfe/Ide
Golden

Orfe/Ide
Silver

Ruffe

Schelly

Stickle
back

Stone
Loach

Sturgeon

Tench

Tench
Golden

Walleye

Zander
Charity lakes Fishery Rules:



1. The Management /Trustees reserve the right to close all or part of the fishery at any time

2. All anglers must be in possession of a current EA rod licence and shall comply with the Salmon and Fresh Water Fisheries Acts and Bylaws thereof. In particular, Baited rods must be attended at all times.

3. Fishing on the lakes is permitted only from swims provided.

4. Unauthorized use of fishery keys is forbidden and may result in suspension or refusal of a permit.

5. The parking of vehicles and siting of bivvies within the fishery should be done so with due regard for the convenience and safety of other users.

6. No radios (personal earphones excepted), fires or litter. Any angler found with litter in their swim will be held responsible for that litter.

7. No swimming, bathing, paddling, boating, sailing, skating, or use of dinghies for any fishing purposes.

8. Children under the age of 14 may not night fish unless accompanied by a responsible adult.

9. Dogs must be kept on a lead and under full control at all times. Owners are required to clean up after their dogs. A dog bin is situated out the main gate.

10. Anglers must show consideration for all other users and comply with reasonable requests of the bailiffs.

11. No access or egress to the fishery to be made: GMT between 8.00 pm and 7.00 am, BST between 10.00 pm and 5.00 am or except In an emergency, or Where the judgment of the bailiff on duty permits the rule to be waived.

12. The use of a baitboat is permitted provided that respect for other anglers is observed.

13. No keep nets to be used. Adequate sized landing nets and unhooking mats must be used.

14. Specimen fish should be retained only for as short a period as necessary before being photographed and returned.

15. Only fixed lead rigs that incorporate safe systems by which the lead can pull free of the rig are permitted.

16. Barbless or semi-barbed hooks only may be used.

17. All particle baits, including seeds, nuts, grains or pulses must be properly prepared including soaking for 24 hours prior to cooking.

18. No fish may be brought to or removed from the fishery, or moved from one part of the fishery to another.

19. The practice of retaining a swim by leaving tackle, bivvies or any other equipment unattended is not permitted.

20. Guest Tickets. Each angler may have five 12 hour guest tickets in any one season.

21. Acceptance of a guest or season permit is deemed to be acceptance of these rules

22. The landowners do not accept responsibility for any personal loss or injury and/or loss or damage to property.



Additional Rules for Pike fishing:



23. 2 rods only. (this is a conservation measure to preserve pike stocks)

24. No live baiting. This ensures non-movement of fish on the site and the possible spread of disease.

25. Barbless or semi-barbed treble or double hooks only. No more than two hooks on each trace.

26. Minimum breaking strain line of 15lbs.

27. Wire traces must always be used - 18 x 30lbs b/s.

Additional Rules for River Fishing

28. Members must not trespass outside of the river fishery boundaries at any time.

29. Exceptional care must be taken when fishing the river as a natural rural, area conditions can change quickly with rising water levels and banks becoming slippery or undercut, members are required to inform bailiffs immediately should any areas be noted as unsafe.

30. All gates to and from the river must be closed and secured at all times after use as these form part of the otter protection for the fishery.

31. Members may form their own fishing areas/swims. However in order to do so, they may not cut down trees, create any structure, or damage the bank in any way.

Field Testing of Bait Products on behalf of Third Parties

32. Disclosure of the intent to test bait on behalf of a third party is a mandatory requirement of your application.


Facilities: ?