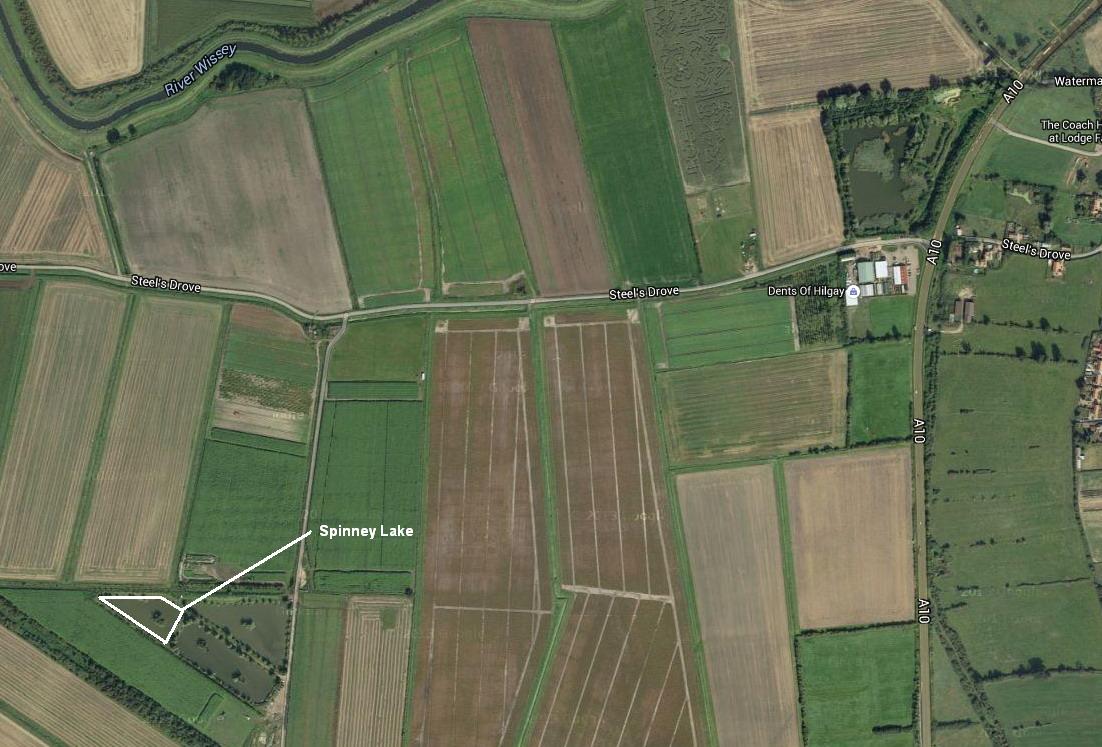 Fishery Name: Dents Farm Hilgay Fishery - Spinney Lake
Address: Steel's Drove, Hilgay, Downham Market, Norfolk, PE38 0QH


Grid Reference: Entrance Grid Ref: TL 60740 98085

Car Park Grid Ref: TL 60660 97535
Sat Nav: NR11 7HN
Phone Numbers: 01366 385661
Email Address: [email protected]
Description:

Spinney Lake

15 foot deep with 23 pegs

The coarse fishery comprises of 5 well-stocked fishing lakes. All lakes are landscaped with extensive tree planting. The banks are well established with reeds, rushes and other vegetation. There is a mass of wildlife, including Kingfishers.

In conjunction with the fishery the adjoining 20-foot bank (Sam's Cut) has over 6 acres of trees planted on it with a mile and three quarters of hedge.

Safety floats are available. Our aim is to provide good sport in a safe and naturally appealing setting. The fishery is a popular choice for anglers for it's pleasant surroundings. Well used by Juniors and the Disabled. Much is being done to encourage the young to the sport of fishing.

The lakes are open every day from dawn til dusk, but night fishing is not allowed.

We are members of Premier Fisheries, which are a recognized group of high quality fisheries throughout the United Kingdom. Premier is responsible for not only encouraging local anglers, but also those from further a field to the area in search of good fishing.


Fish Species:

Bream
Common

Bream
Silver

Bullhead

Carp
Common

Carp
Crucian

Carp
F1 Carp

Carp
Ghost

Carp
Grass

Carp
Leather

Carp
Koi

Carp
Mirror

Catfish
Wels

Eel

Goldfish

Goldfish
Brown

Orfe/Ide
Blue

Orfe/Ide
Golden

Orfe/Ide
Silver

Ruffe

Schelly

Stickle
back

Stone
Loach

Sturgeon

Tench

Tench
Golden

Walleye

Zander
Rules: Please read all the fishing rules and abide by them. This is for the safety of yourself and others



1. No keep-nets (except in matches)

2. 1 small bag of boilies (1/2 kg maximum)

3. A maximum of 1kg Groundbait can be used

4. Barbless hooks only

5. Maximum of 2 tins (400g) Meat.

6. All anglers must have a landing net and unhooking mat

7. Juniors (under 16) must be accompanied by a responsible adult

8. All fish to be returned to the water where caught

9 . Ensure no litter is left in swim before and after Fishing. If a swim, or peg, is untidy before fishing and you are not willing to clear it, do NOT fish it.

General Health and Safety advice for all anglers and spectators:

No Tackle to be assembled in any of the car park areas.

The access road is owned by the Highways Authority and is not the responsibility of Dents Garden Centre.

All cars are parked at the owner's risk. All cars to be removed from the shop car park by shop closing time as these gates are then locked. All cars to be removed from all other car parking areas, either by sunset or 9pm which ever occurs first.

Weil's disease is a bacterial infection that occurs in the urine of rats and cattle and may be found in areas of open water.

DO NOT touch any of the bait boxes or dead animals you may observe around the lake areas. Bait boxes are white and marked with a yellow hazard warning sign stating "Poison Do Not Touch"

DO NOT fish any pegs that you consider to be unsafe. Please report any deficiencies to the shop during opening hours.

DO NOT STAND at the very front edge of the pegs, where sleepers have been positioned supported by metal posts or on the bank edges surrounding the pegs as the possibility of falling into the water is much greater.

DO NOT ENTER THE WATER FOR ANY REASON EXCEPT IN AN EMERGENCY.

Paddling, swimming or any other water related recreational activity is STRICTLY PROHIBITED. This includes use of the rescue boat located on the lakeside.

STAFF USE ONLY. Life buoys have been provided around the lakes for retrieval of someone who has fallen in the lake. The locations are marked on the site map.

Barb-less hooks are for your own safety as well as that of the fish. Exercise caution when using sharp tools and fishing equipment at all times.

DO NOT cast your rod when someone is close to you. Always check behind you first.

Insect/animal/fish/reptile bites are not uncommon. For those individuals who have a known sensitivity please bring the appropriate medication.

Emergency calls can be made from the Farm Shop during opening hours.

Be aware that, whilst visiting our fishing lakes, you are in the countryside with its associated wildlife and potential hazards. Please adopt a safe approach in all your activities.

Any children who come to fish or spectate are the responsibility of the attending adult and must be supervised at all times. This includes children up to the age of 16 years.

All cars are left at the owners risk.


Facilities:

The site has ample car parking with a concrete pad and a large graveled area adjoining the lakes. Two toilets are situated on site, both with access for the Disabled. The access road to the lakes is an existing farm road, off the council West Fen Road that is well maintained.