This webpage works in both Mobile Phone Modes.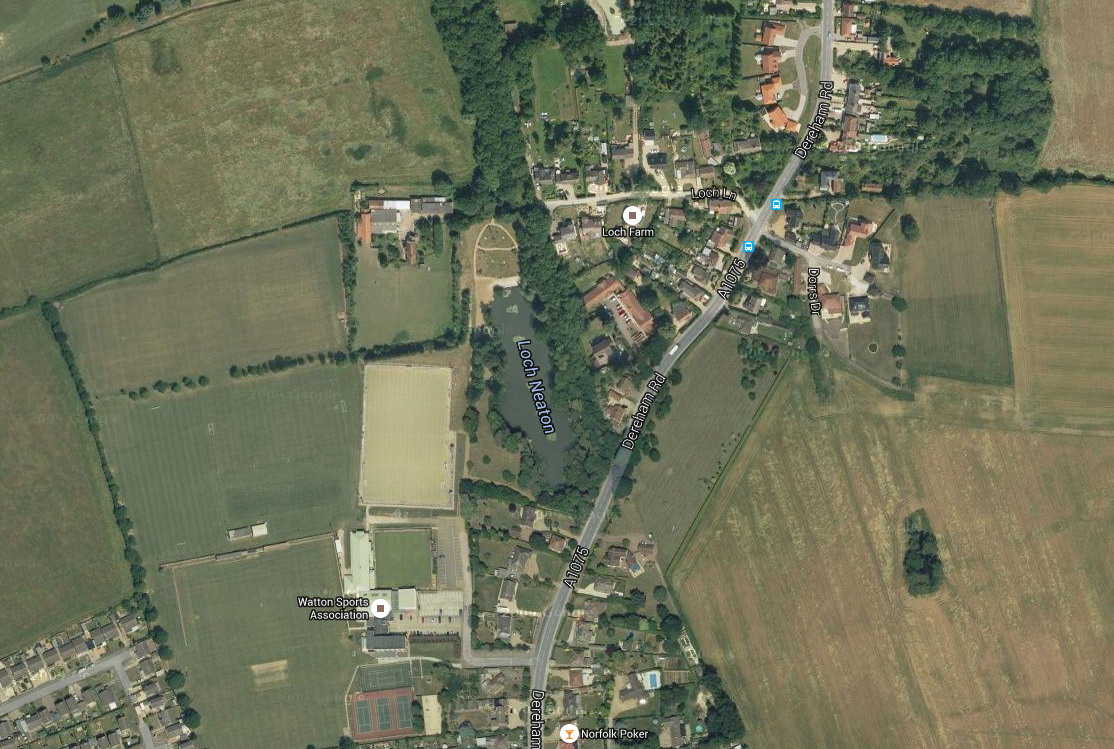 Fishery Name: Loch Neaton
Address: Loch Lane, Watton, Thetford, Norfolk, IP25 6HE


Grid Reference: Entrance on Foot Grid Ref: TF 91760 01339, TF 91679 01549, TF 91664 01355

Car Park Grid Ref: TF 91655 01306
Sat Nav: IP25 6HE
Phone Numbers: 01953 883894 or 07938 847118
Email Address: Automated via their website
Description:

Welcome to Loch Neaton - the Jewel of the Town

Set in beautiful surroundings on the outskirts of Watton, Loch Neaton is a well stocked fishing lake, perfect for anglers of all ages and abilities, particularly resplendent when the 7 lily beds are in flower. As anglers will know, fishing is particularly good around lily beds. A delightful lady called Avril Smith, who I met by chance whilst photographing the lilies at the end of June 2010, described the Loch as 'Norfolk's Unspoilt Monet's Garden', a very apt description for this beautiful and tranquil corner of Norfolk.
Fish Species:

Bream
Common

Bream
Silver

Bullhead

Carp
Common

Carp
Crucian

Carp
Ghost

Carp
Grass

Carp
Leather

Carp
Koi

Carp
Mirror

Catfish
Wels

Chub

Goldfish

Goldfish
Brown

Gudgeon

Ruffe

Schelly

Stickle
back

Stone
Loach

Sturgeon

Tench
| | | |
| --- | --- | --- |
| Golden Tench | Walleye | Zander |
Rules:



The responsibility of the Trustees is to ensure sound water management according to Authority Regulations.

All persons fish at their own risk.

Barbless hooks to be used at all times.

Maximum of 2 rods per angler at any time.

Minimum 8lb line.

An 18" minimum landing net with a handle and unhooking mat to be used.

All fish to be returned to the water unharmed immediately.

No live or ground baiting.

Smelts and mackerel dead bait only.

Loose feed only.

All bait to be in plastic containers.

No tins permitted.

Lead weights, lead shot, shelflife boilies and nuts totally banned.

Keep nets may be used by Season Ticket holders only.

No carp sacks or dragline netting.

No spinning, syringes or lures.

No fires or barbecues at the lakeside.

Night fishing (Season Ticket holders only) - anyone under 16 years old must be accompanied by an adult.

Please remain quiet whilst fishing and respect other Loch users.

The whole Loch can be fished wth the exception of the Wall end.

All ticket holders are requested not to leave litter.

Tickets must be carried at all times and produced on request.

The Trustees cannot be held responsible for any damage to fishing tackle or personal belongings whilst anglers fish.

Permits will be revoked if the above rules are not observed.
Facilities: ?