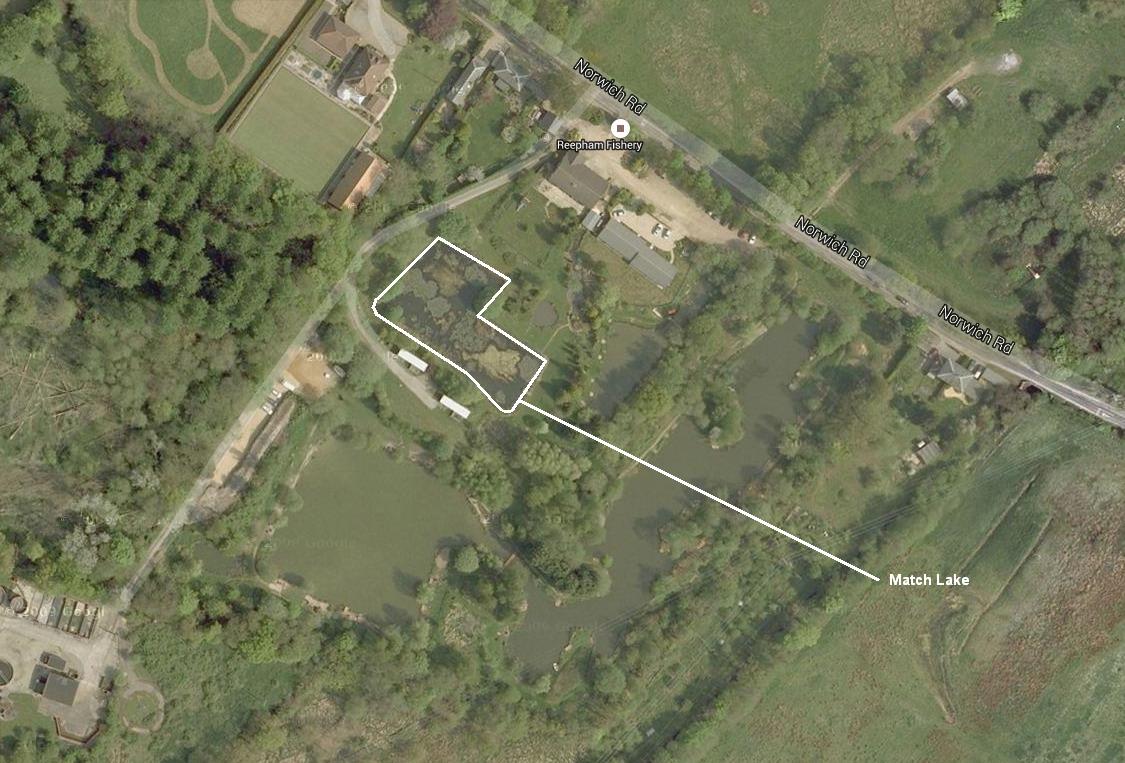 Fishery Name: Reepham Fishery - Match Lake
Address: Beck Farm, Norwich Road, Reepham, Norfolk, NR10 4NR


Grid Reference: Entrance Grid Ref: TG 10656 22900

Car Park Grid Ref: TG 10689 22873
Sat Nav: NR10 4JN
Phone Numbers: 01603 870829
Email Address: ?
Description:

Reepham Fishery, just outside the historic town of Reepham, is regarded as one of Norfolk's premier coarse fisheries, having been established for many years on spring-fed lakes. Recently an extensive programme of improvements was completed to create a popular venue for both day ticket fishing, and fishing holidays.

Match Lake - a 1 acre lake opened in the Spring of 2008, with 20 pegs.


Fish Species:

Bream
Common

Bream
Silver

Bullhead

Carp
Common

Carp
Crucian

Carp
F1 Carp

Carp
Ghost

Carp
Grass

Carp
Leather

Carp
Koi

Carp
Mirror

Catfish
Wels

Eel

Goldfish

Goldfish
Brown

Orfe/Ide
Blue

Orfe/Ide
Golden

Orfe/Ide
Silver

Ruffe

Schelly

Stickle
back

Stone
Loach

Sturgeon

Tench

Tench
Golden

Walleye

Zander
Rules:



Day Ticket Rules of the Fishery

Reepham Fishery is a pleasure fishery renowned for quantity as well as quality. Many people catch large poundages of a variety of fish some as large as 20+ lbs in weight. It is therefore essential that all anglers who wish to fish here come with a full set of equipment, and when they catch, they exercise great care landing and handling the fish, big or small.



The goals of the Fishery are:



To provide customers with a quiet, undisturbed, safe environment as close to nature as possible. To protect the wellbeing of the fish. To preserve the natural environment as much as possible. To that end, the following rules will be vigorously enforced:

A current rod licence is required - the Environment Agency often carries out spot checks.

No heavy carp gear. 1.75lb test curve rods and 10lb line maximum are permitted. No braid.

A maximum size 18 elastic is permitted for pole fishing.

No barbed hooks and only manufactured barbless hooks permitted, maximum hook size is number 8. No bent hook rigs. No fixed bolt rigs, no leads over 2oz (60g), no shock leaders (Amnesia etc).

No lead core.

The Method is not permitted.

No beach castor rigs.

No nets or mats or slings may be brought onto the fishery. The fishery provides nets and mats at each peg.

Fish must NOT be placed on the ground without a mat, NOR HANDLED WITH TOWELS, CLOTHS etc.

Fish should be handled as little as possible - No Fish may be carried outside of the landing net.

No trout pellets, no meat loose feed, no nuts. Maize, wheat and hemp MUST be prepared and soaked properly.

ALL baits to be used in MODERATION and not left in/on the swim or thrown into lake at the end of a session; unused bait to be placed in bins.

STALKING IS STRICTLY PROHIBITED. Fishing only allowed from swims provided - no roaming away from peg.

No fish or plants to be destroyed or removed from site.

Juniors (under 16 years of age) MUST be accompanied by an adult (18+years old).

Only 2 rods per person.

Visitors / companions kept to a minimum - we reserve the right to charge companions.

No dogs.

No litter, offenders will be banned.

No entry to the Fishery during the hours of darkness.

NO NIGHT FISHING.

Save for the death and personal injury due directly and solely to the negligence of Reepham Fishery, its owners, employees, or agents, no liability is accepted for any injury, loss or damage, including loss of profit, or loss or opportunity.


Facilities:

The Fishery has good toilet facilities suitable for both men and women.