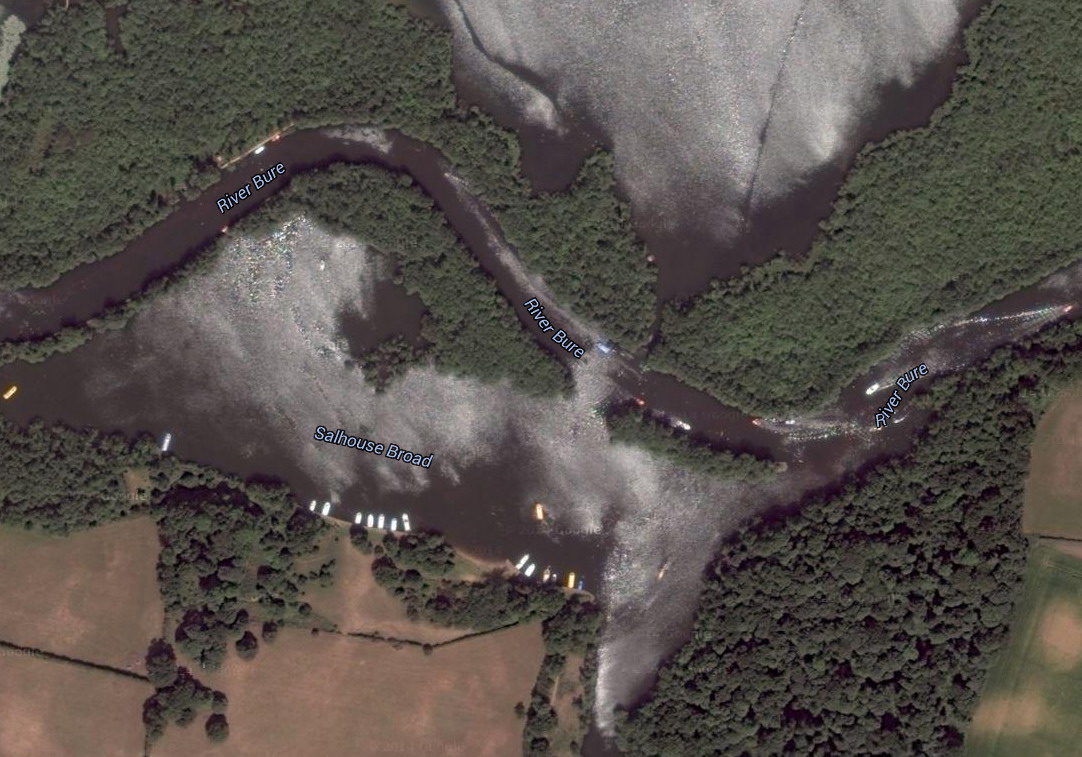 Fishery Name: Salhouse Broad
Address: Lower Street, Salhouse, Norwich, Norfolk, NR13 6RX


Grid Reference: TG 31255 15535 of lane leading to the Broad and Boats. Actual Grid Reference: TG 31855 15655
Sat Nav: NR13 6RX
Phone Numbers: 01603 722775 or 07795145475
Email Address: [email protected]
Description:

Salhouse Broad is a unique broad located on the River Bure between Wroxham and Horning, in the heart of East Anglia. It is 40 acres in size and is part of the Broads executive area, a member of the national park family. Unlike most of the other Broads, which were created by people digging for peat in the Middle Ages, Salhouse Broad was created by sand and gravel extraction. As sea levels rose the diggings gradually flooded, forming Salhouse Broad along with all the other Broads in the area. It can be Fished on the Moorings between Boats or on the Hire Boats.
Fish Species:

Bream
Common

Bream
Silver

Bullhead

Carp
Common

Carp
Crucian

Carp
F1 Carp

Carp
Ghost

Carp
Grass

Carp
Leather

Carp
Koi

Carp
Mirror

Catfish
Wels

Eel

Goldfish

Goldfish
Brown

Orfe/Ide
Blue

Orfe/Ide
Golden

Orfe/Ide
Silver

Ruffe

Schelly

Stickle
back

Stone
Loach

Sturgeon

Tench

Tench
Golden

Walleye

Zander
Fishery Rules:



Venue information:



The Norfolk Broads, at 300 square kilometres, is one of Britain?s best known angling locations and one of the region?s premier tourist attractions. The Broads is a good area for fishing where bream, eel, perch, pike, rudd and tench can be found. The coarse fishing season runs from 16 June to 14 March and all that you need to fish is a current Environment Agency licence, available from post offices.

There are many places where you can fish from the bank or you can hire a day boat. There are fishing platforms suitable for wheelchair users at Rollesby Bridge and on one of the boardwalks at Filby Broad. There are also platforms along the River Bure near Cockshoot Broad, for use by members of the Norwich and District Anglers' Association.



General Information:



Post Offices will supply the NRA National Fishing Licence Mon - Sat, or they can be purchased direct from the Environmental Agency 7 days a week. The charge varying for annual non-concessionary or annual concessionary.

The Environment Agency (Licensing Dept) Tel: 08701 662662

Website: www.environment-agency.gov.uk/fish Opening Hours: 0800am - 2000pm 7 days a week except Bank Holidays (0900am - 1700pm)

Payment by Credit Card or Direct Debit

Concessionary licences are available for anglers between 12-16 years old and for people over 60 years of age, or disabled persons.

Anglia Water has made a bylaw prohibiting the use of lead weights of more than 0.06 grams (no. 8 shot) up to and including 28.35 grams (1 ounce).



Rules:



Fish Care retaining fish

If you use a keepnet:

Only use a keepnet when necessary and retain fish for the shortest time possible.

Make sure your keepnet is made of fish-friendly mesh and complies with local bylaws.

Don?t overcrowd your keepnet, especially during hot weather.

Make sure there is enough depth of water for your net.

Place fish in the keepnet quickly and gently.

Large fish should not be retained in a keepnet.

Do not tow fish in keepnets behind boats.

Keepnets should not be left unattended for extended periods of time.

Ensure that your keepnet is secured properly to the bank or boat to protect it from the wash of motor cruisers.

Don?t keep pulling the net out of the water to show off your catch, this will harm the fish.

Return your catch carefully, do not slide or tumble fish down the keepnet into the water.

Unhooking fish

Use barbless or micro-barb hooks where possible. They are kinder to fish and hook removal is much easier.

Carry several disgorgers (you will always lose one!) and forceps for the removal of larger hooks.

Always wet your hands before handling any fish. Do not use towels, wet or dry, as these can remove the protective slime from fish.

Be mindful of unhooking surfaces making sure they are soft and wet. Always use an unhooking mat on soft, flat ground for pike and large fish.

Fish should be weighed in appropriate nets or weighing slings and NOT by the gills.

When taking a photograph, have your camera ready before you take the fish out of the water.

When holding fish, always make sure you keep them low to the ground.

Fish should always be returned to the water quickly and gently after weighing (if this is necessary) or at the end of the day, if retained in a keepnet.

Fishing methods and unattended rods:

Baits and lures should never be left trailing behind moving motor cruisers and day boats. This practice is not only ineffective it is also dangerous.

Pike fishing requires specialist knowledge and tackle. It should not be attempted unless you are confident that you can unhook and safely return your catch. If in doubt seek expert advice.

It is an offence to leave a baited rod unattended.

It can endanger water birds and fish (particularly pike) which might gorge the bait or snag the line. There is also a danger from passing boats.

Be aware of crime, don?t leave rods or other valuables unattended on the bank or boat.



Wildlife and the environment:



Don?t drop litter use bins and disposal points.

Choose your swim with care to reduce the risk of snagging bankside trees, vegetation and obstacles in the water.

Take care where people feed waterfowl; the birds may have learned to associate people with food and their expectations will increase the risk of entanglement.

Remove rigs caught up in vegetation, branches or underwater snags immediately, where it is practical and safe to do so.

Beware of birds swimming into your fishing line. Swans can reach your bait one metre below the surface and other birds will often dive for food.

Wind in your tackle if you think birds are at risk.

Hooks and line should never be discarded, especially baited hooks. Line should be cut into one-inch lengths and disposed of with care or better still, taken home.



Safety:



When fishing from hire craft, moor safely and always wear a life jacket.

Wear appropriate footwear on deck and always be mindful of slippery surfaces.

Be aware of power cables, especially overhead in boatyards or set back from banks.

Take notice of any warning signs. LOOK OUT, LOOK UP and CAST WITH CARE! Observe speed limits.

Be considerate to other water users. Always watch your speed.



Other water users:



Angling is very important to many people but it is just one of many legitimate water activities.

Please respect the rights of other users.

If fishing near a bend in the river or amongst tall reeds be aware of approaching boat traffic, they may not be able to see you.

When fishing close to boats, be considerate and use a pole cup to place groundbait, rather than a catapult.

Should you accidentally get your hook caught on a boat?s mooring ropes, please don?t leave it there to injure someone?s hand. Remove the hook but make sure that it is safe and practical to do so. Ask the permission of people on the boat if it is occupied.

When fishing at moorings, anglers should give way to vessels trying to moor up.

Keep paths clear for pedestrians and cyclists.


Facilities: Amenities at Salhouse Broad

Drinking Water Look for blue pipes at Broad moorings between 1st April- 31st September

Toilets In car park open from 1st April- 31st September

Ice Cream Boat At Salhouse Broad or on the river Bure- you must wave him down!

Bins Glass, cans and general waste bins in car park from 1st April- 31st September

Dog waste Bins Available at Broad and near car park throughout the year