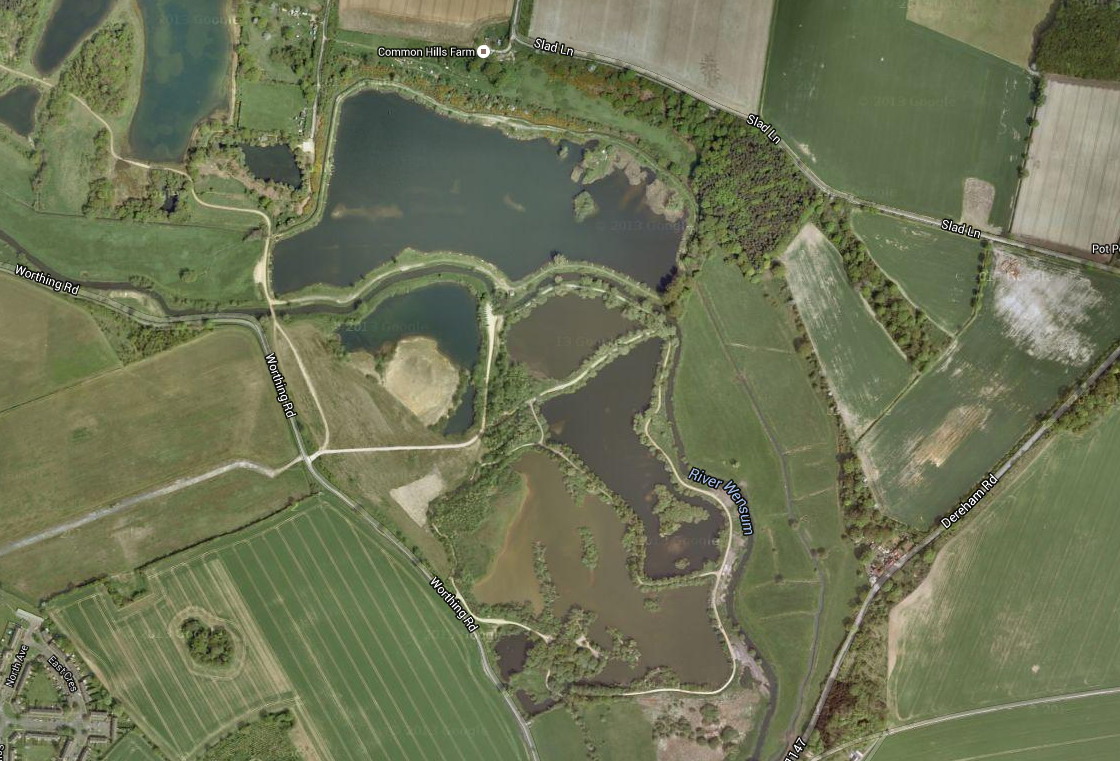 Fishery Name: Swanton Morley Fisheries
Address: Worthing Road, Swanton Morley, Dereham, Norfolk, NR20 4LQ


Grid Reference: Entrance Grid Ref: TG 01540 19118

Car Park Grid Ref: various places after the entrance.
Sat Nav: NR20 4LQ
Phone Numbers: 01362 637591
Email Address: [email protected]
Description:

Over 50 acres of gravel workings, split into two small and three large pits. Depth fluctuates between 3 and 20 feet and can vary within just a few feet, especially around the many bars and peninsulars.

There is a superb stock of roach, including specimens to over 2lb, an increasing head of bream to 15lb and a fine head of tench between 3lb and 8lb as well as perch (including the odd whopper), crucian carp, common carp and pike. Specimens over 25lb are taken most winters.

Also on site is a super three quater mile stretch of the River Wensum containing good roach, dace, chub and pike
Fish Species:

Bream
Common

Bream
Silver

Bullhead

Carp
Common

Carp
Crucian

Carp
F1 Carp

Carp
Ghost

Carp
Grass

Carp
Leather

Carp
Koi

Carp
Mirror

Catfish
Wels

Eel

Goldfish

Goldfish
Brown

Orfe/Ide
Blue

Orfe/Ide
Golden

Orfe/Ide
Silver

Ruffe

Schelly

Stickle
back

Stone
Loach

Sturgeon

Tench

Tench
Golden

Walleye

Zander
Rules:



1. DDAC does not hold itself responsible for any accident or injury to any individual, or accident / loss of property of any person whilst they are at club waters or participating in club events. Be aware of all dangers / act accordingly!

2. DDAC cards must be carried when fishing DDAC waters. Members with no DDAC card with them must buy a day ticket. DDAC card and day ticket valid for SMF, all other DDAC waters are members only. Night fishing is members only. On production of their own card, all members have the right to check the card / ticket of other anglers.

3. Anglers must be in possession of a current Environment Agency (EA) licence, and comply with the Salmon and Freshwater Fisheries Acts and Bylaws.

4. Children aged 14 and under must be accompanied by a responsible adult aged 18 or over.

5. Two rods only, may be used simultaneously on Club waters. A third rod permitted at an extra 30 pounds cost. For 3rd rod, an extra club card and a 2nd EA licence are required.

6. No fixed leads or feeders, and no boats or bait boats of any description permitted on Club waters. (Formal work parties exempt).

7. No: wading or swimming; litter, rubbish, pollution or contamination; camping or fires allowed at Club waters.

8. Pike fishing only permitted 1 October to 31 March. Live baiting and pike gaffs prohibited. Pike anglers must use minimum line strength of 15 lbs 0.3 mm diameter, plus wire trace of at least 20 lb and 18 in (46 cm) length for all methods including spinning and lure fishing.

9. Fish, including eels, must be handled with care and returned alive to same swim. Barbless hooks encouraged. Sensible use of sacks, tubes and keepnets allowed, correctly pegged out and not overcrowded. Larger fish specimens are not to be retained in nets, sacks or tubes for long periods, and no carp in keepnets.

10. On lakes anglers must fish from numbered peg swims. No cutting out new swims, or occupying or fishing two swims simultaneously.

11. Nut baits are banned. Ground bait, boilies and pellets may be used sparingly.

12. On lakes, floaters permitted only from swim being fished. No feeding floaters in any other swim.

13. On lakes, pre-baiting permitted in one swim only. No pre-baiting multiple swims.

14. Anglers must remain within 3 metres of baited rods / pegs, and must not leave unattended tackle in their swim for more than 3 hours.

15. All anglers must be in possession of / use an unhooking mat.

16. Laser lights are prohibited at DDAC fisheries, and no climbing trees at DDAC fisheries.

17. No group, including Club members, may hold a match on any DDAC water without prior written permission from the Committee.

18. Members shall undertake no action that could jeopardise the Club's good name or standing. Must adhere to notice board instructions / access restrictions, and are prohibited from crossing the Wensum at DDAC Fisheries.

19. Disciplinary action will be taken against any person breaching Club Rules, damaging Club or venue property, leaving litter, causing a nuisance or annoyance at Club waters.

20. Toilets: All individuals answering the 'call of nature' at DDAC fisheries must remove their 'faeces' from the site. Any individual leaving defecation on the ground will be banned.

21. Dogs must be kept on a short lead at all times and pooper scooped.

22. DDAC Operates a blanket publicity ban on all specimen fish caught from its fisheries. Publicity only permitted with the Executive Committee's prior consent.

23. Close season on all rivers 15 March to 15 June inclusive. Other landlocked waters no closed season, however nesting birds must not be disturbed.
Facilities: ?