Norfolk Fishing Network 2004 - 2023 - Fisheries Information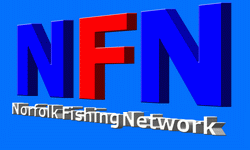 Fishery Name: Waveney Valley Lakes - kingfisher Pool
Address: Wortwell, Harleston, Norfolk, IP20 0EJ


Grid Reference: Entrance Grid Ref: TM 27765 85134

Car Park Grid Ref: ?
Sat Nav: IP20 0EJ
Phone Numbers: 01986 788676
Email Address: ?
Description:

A small pond suitable for two anglers, float or feeder fishing. Well stocked with quality mixed coarse fish. Days only (8am till 8pm)
Fish Species:

Bream
Common

Bream
Silver

Bullhead

Carp
Common

Carp
Crucian

Carp
F1 Carp

Carp
Ghost

Carp
Grass

Carp
Leather

Carp
Koi

Carp
Mirror

Catfish
Wels

Eel

Goldfish

Goldfish
Brown

Orfe/Ide
Blue

Orfe/Ide
Golden

Orfe/Ide
Silver

Ruffe

Schelly

Stickle
back

Stone
Loach

Sturgeon

Tench

Tench
Golden

Walleye

Zander
Fish Care:



Always use a large well padded unhooking mat.

Always position the mat sensibly.

Always place landed fish on the unhooking mat.

Always treat "hookmarks" with anti-bacterial solution.

Always take great care handling "Pectoral and Pelvic" fins on fish when photographing.

Always keep carp cool especially in hot weather, using water when photographing.



Fishing Rules:



No inflatable dinghys or boats.

No loud music.

No tents or gazebos, only proper angling bivvies.

No pets.

No fires - barbecues only and they must not be allowed to scorch the grass.

No excessive drinking.

No disorderly behaviour.

No swimming - snagged fish, notify the shop. No tigernuts or peanuts.

No fixed lead rigs. We reserve the right to check rigs.

No litter, please use bins provided.

No rods to be left unattended - we will reel them in and you will be asked to leave, with no refund.

No keepnets.

No excessive use of particles.

Fishing from numbered swims only.

Unhooking mats to be used at all times during weighing and photographing. Sacking of fish limited to 15 minutes.

Fish must be retained in deep water with sufficient length of cord and large float attached to carp sack.

Children are only permitted if actually fishing and have a paid day ticket in their own name.

Visitors to day ticket anglers are not allowed. Wives and partners are welcome, but must be booked in or pre-booked.

Maximum rods allowed: Waveney - 4 Rods - Yew Tree - 3 Rods Bait boats permitted on all lakes, but must be attached to a spare rod - we will not rescue snagged bait boats.



Yew Tree and Marsh Lake Rules:



Minimum main line 15lb mono.

No leadcore or braided leaders.

No braided mainline.

Hooklinks 25lb min. (recommend Kryston 35lb Quick Silver Gold).

42" minimum landing nets.

Large padded unhooking mats/beanie or cradle.

No nuts.

No more than one swim away from your rods.

Running leads only. We have found several dead catfish tethered to snags with semi-fixed leads on so tight we cannot remove them.

Three rods maximum per angler/swim.

No walking around Yew Tree to look for fish or baiting up, these areas are private - residents only.

Marsh lake swims 1/2/7/8, bivvies on gravel only, not on footpath.

No sacking of any fish.

No guests or visitors unless already booked in.

If you are using bite alarms you are deemed to be carp or cat fishing Breaking of these rules could lead to you being asked to leave the site without a refund.


Facilities: ?


©Norfolk Fishing Network 2004 - 2023®All Rights Reserved.