Norfolk Fishing Network 2004 - 2021 - World Record Mirror Carp 88.6lbs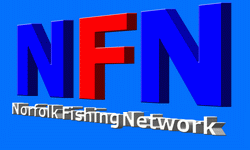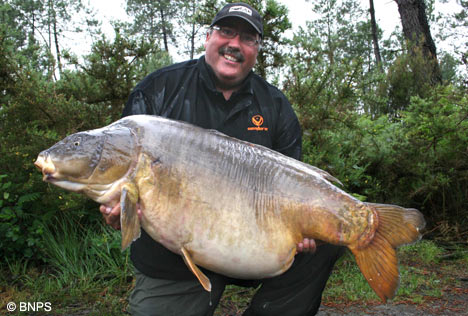 British angler Graham Slaughter has scaled new heights by catching the world's biggest carp that weighed a whopping 88.6lbs - almost as much as Kylie Minogue
.
It is the first ever captured carp to weigh more than 40 kilos - and was the angling equivalent of the four minute mile
.
More follows... British angler Graham Slaughter with his record-breaking catch
.
Graham, 42, lured the mutant mirror carp to his hook with a mix bait of tuna, shrimp paste, yeast and tiger nuts, a hard pulse from a plant.
It took him 20 minutes to reel it in and then several of his friends had to help heave the beast from the water and onto the scales, sparking wild celebrations on the bank.
Graham was handed two bottles of Champaign by the owner of the lake in France before being hurled into the water by his jubilant pals. The catch is 1lbs 4ozs more than the previous world record held by fellow Brit Gary Hagues last year.
The giant fish has now been named Kylie after the popular Australian singer - who's stated weight is 95lbs, only six pounds heavier than Graham's prized catch.
And just hours previously Graham had caught a 69lbs common carp - meaning he has also broken the record for the world's biggest brace of carp. Hoards of anglers are now set to flock to the Rainbow lake near Bordeaux to try and repeat the feat.
Graham, from from Carlton-in-Lindrick, Worksop, Notts, said: "No one has ever caught a carp over 40 kilos before - it was a bit like the four minute mile.
"To be the first person to break the elusive 40 kilo mark is a great feeling. It was a huge strike.
.
The real Kylie, who weighs virtually the same as Graham's prize catch.
"As soon as my alarm went off on my rod I could tell it was going to be a big one but I had no idea it would be that big.
"I thought I had landed a crocodile because it looked so huge and prehistoric.
"I couldn't believe it when we got it on the scales and saw it was over 88lbs and a new world record. There was huge cheers and I ended up getting a bit of a soaking."
Graham, who works as a brand manager for fishing firm Venture, went to the 120 acre Rainbow lake with some friends as it is well known to be home to some huge fish.
He set out from the shore in a 9ft long boat and using sonar dropped his line in a clear area of water, 15 feet deep.
He put some tuna into the water to attract the fish then motored back to the bank where he sat down with his rod.
Just after 9am the alarm on his rod went off and Graham immediately knew he had hooked a big one.
But due to the amount of obstacles in the water he hopped back into his boat and with one had steering and the other on the rod, motored out into the open water.
For 20 minutes he reeled in his prize and when it broke the surface he realised just how big it was.
He placed his huge landing net underneath the 6.3 stones monster and towed it back to the bank where his colleagues helped him pick it up and weigh it.
Graham said: "Rainbow lake is known for its big carp - and this was the biggest.
"I had gone out in the boat and dropped the line about a metre away from a sunken pine tree in 15 feet of water.
"I used Solar byt boilies as bait and had laid down some tuna in the water. It slicks and attracts carp which have a great sense of smell. "The boilies are a mix of shrimp, yeast and tiger nuts. They love the taste of the shrimp and yeast and the tiger nuts are crunchy which they like.
"I then went back to the shore where I sat and waited for a bite.
"It gave me a real buzz when my alarm went off. It's the moment you are waiting for when you are sitting there with your rod.
"I reeled in some line then went out in the boat and spent 20 minutes playing it before it broke the surface.
"I couldn't lift it into the boat so I towed it to the shore where my friends helped me take it out of the water to be weighed.
"On one set of scales it was 88.8lbs and on the other it was 88.4lbs, so we took the middle reading of 88.6lbs.
"It was the biggest ever caught and was a great thrill.
"It was a beautiful mirror carp, more than 20 years old I would have thought and over a pound heavier than the previous biggest.
"It hasn't got a nickname, but maybe people will call it after my initials, GS." The record carp caught in Britain stands at 64lbs.


©Norfolk Fishing Network 2004 - 2023®All Rights Reserved.